For all the latest information,
check out my Facebook page.
When a school trip to London goes very wrong, events from her forgotten past intrude violently into her present, and Allesia Caine finds herself dangerously entangled in family matters once again.
Betrayed and injured, can Caine fix a mistake before her past and everything she holds dear become nothing more than shadows in time…
Queen of Air and Darkness
Allesia Caine has been many things over the centuries. 'Lucky' isn't one of them.
With her uncle trapped in crystal, her father skulking in the shadows, and the threat of ancient Things lurking at the back of her mind, Allesia Caine can no longer run.
When a mysterious voice starts whispering her name, and the moon fills the sky, it's time for her to take a stand.
It might be her last.
It's been two years since Allesia Caine sent an incubus screaming back to Hell on Valentine's Day. It's been almost as long since she disappeared into the Archive and hasn't been seen since.
And Morrow the succubus is taking that totally well and good, thanks for asking…
Includes a revised edition
of ADDICTED TO LOVE.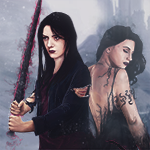 Allesia Caine has been busy. As the Queen of Shadow, it's her job — and only hers, as the Mantle keeps reminding her — to keep the whole of Creation safe from unspeakable Things beyond the veils and rules of sanity.
So when a vampire shows up in her father's former Court and tells her than the ruins of Wyrtham have gone missing from their final resting place in the Sunless Sea, Caine is more than a little concerned that something big is afoot…
Text and Artwork © 2020 Jon Burrage. All Rights Reserved.